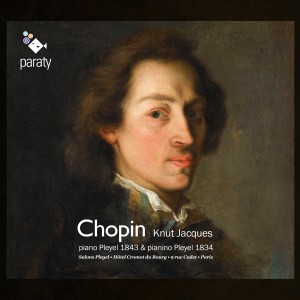 During his stay in Vienna, Chopin outlined the first of his four Ballades, which now hold a central place in his output. The Ballade No. 1, in G minor, Op. 23 was premiered in Paris in 1835
Having arrived in Paris, Chopin, who brought his first masterpieces in his baggage, soon met Liszt, Rossini, Cherubini, and the pianist Friedrich Kalkbrenner. Kalkbrenner was a darling of Parisian musical life, a remarkable virtuoso who, according to Antoine Marmontel, displayed "a supreme degree of manic pedantry in all that he did". From 1829, Kalkbrenner was associated with Camille Pleyel, the successor and son of Ignace Pleyel (who was the eponymous founder of the piano factory in 1807). Chopin was genuinely partial towards Pleyel pianos. He appreciated their silvery, elegant timbre and supple, delicate touch. He owned two Pleyel instruments, a grand piano and a pianino, on which he gave lessons. It was on a Pleyel pianino sent from Paris that Chopin composed part of his Opus 28 Préludes, during an inauspicious sojourn in Majorca with George Sand, between 1838 and 1839. In 1839, at the Industrial Exhibition, Camille Pleyel presented a pianino which was reported by Félix Savart to be small but "remarkable for the fullness, strength and evenness of its sound".
Chopin first met George Sand in 1836, in the salon of Marie d'Agoult, Franz Liszt's companion. Their first meeting was disastrous. Chopin, who hated controversy, found the woman with big black eyes, who wore pants and smoked a cigar, disagreeable. Yet their affair lasted nine years, with the two divided between their Parisian apartments and George Sand's property in Nohant, in the center of France. Upon his return from the Balearic Islands, Chopin spent the summer of 1839 in Nohant. It was there that he confided to his friend Julian Fontana, another Polish exile: "I am composing a sonata in B-flat minor which will include the Funeral March that you know. It consists of an Allegro, a Scherzo in E-flat minor, the March and a short finale of about three passages. After the March, the left hand babbles unisono with the right hand." Written in 1837, the renowned Funeral March came to complete the sonata which was premiered in 1839 and published in 1840. This powerful and dramatic oeuvre was often misunderstood. Even Schumann considered the Funeral March "repulsive"; he suggested replacing it with an adagio in D-flat for better effect. The Funeral March was performed at Chopin's funeral at the Église de la Madeleine in Paris, on October 30th 1849, in a version orchestrated by Henri Reber.
Composed in 1842, the fourth Ballade in F minor op. 52 begins in reverie, and ends with brio. It is a work full of eloquence, at turns passionate and pleading.
In 1833, Chopin had the opportunity to hear Irish pianist John Field perform in Paris. A student of Clementi, Field is considered the father of the piano nocturne. If Chopin's Nocturnes are indicative of Field's influence, Chopin has brought into the genre a creative power that is absent in his model. Chopin's Nocturnes draw from his passion for Italian bel canto: his students used to say that his playing was "entirely modeled on the vocal style" of Italian singers. They are passionate and delicate works, nuanced with melancholy and imbued with devotion, like the Nocturne in C-sharp minor, an oeuvre composed in Chopin's younger days, during the time when he left Poland. The lyricism of this piece evokes the slow movement of Chopin's Concerto in F-minor. The first of three Nocturnes op. 9 was dedicated to virtuoso pianist Marie Pleyel (Camille Pleyel's wife) and written between 1830 and 1831. The Nocturne in B-flat minor embroiders gentle and impassioned arabesques above a conventional arpeggio accompaniment.
Chopin left two collections of Études, op. 10 and op. 25. The twelve Études of op. 25, dedicated to Marie d'Agoult, date from 1832 to 1836. They are virtuoso pieces. Despite their pedagogical intent and intense poetry, they do not eschew adornment, as Chopin always coaxed melodic lines over technical complexities. The Étude in F minor, premiered in January 1836, is meant to enhance the independence of the hands; it superimposes eighth note triplets and quarter note triplets.