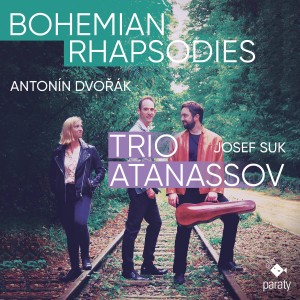 Welcome to our trio's third recording! To mark the occasion, we wished to reconnect with a leading figure of the music world whom we have always held dear, a poet of endless inspiration who grew into a prominent craftsman through sheer hard work: we are of course referring to Antonín Dvořák.
We sincerely hope that you will be as delighted as we are by the variety of moods and tones in Dvořák's music, which remains so moving in its spontaneity and its sincerity! It is the reflection of a simple man, whose strong will and sense of direction render him incorruptible, but who nevertheless spent his whole life observing the world with a child-like verve.
Truly, Dvořák's music is so touching because it tells us, quite simply, what it means to live: to dance, to sing, to laugh, to cry… Through the works that make up Bohemian Rhapsodies shines a man with a passionate love of nature, his Czech heritage, the latest innovations of his time, the affection for his family, the company of friends…
Although Dvořák built up his own legend, it was under the influence of an ancient Czech legend, reinterpreted by the poet Julius Zeyer, that Josef Suk composed the Elegy which closes the present record. A natural way of bringing these Bohemian Rhapsodies full circle.