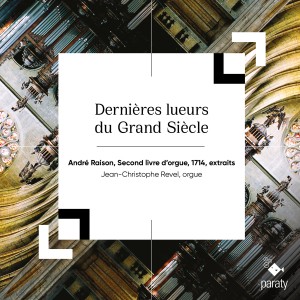 André Raison's (1650 circa, 1719) biographical facts are so scattered, and they teach us so few about him, that he remains for us a quite poorly known musician: a hypothetical date of birth, a rather imprecise date of death, 1719, and a few pieces of information related to his education as well as his main positions – organist to the grand couvent et collège des Jacobins of rue Saint Jacques, and subsequently, to the "Royal" abbey of Sainte Geneviève du Mont where he had previously studied. We also know that Louis- Nicolas Clérambault, who dedicated to him his first and only organ works book in 1714 (date of publication as well of Raison's second book), was his student.
From Raison's hand only remain two impressive organ books, as much in the density as in the quality of their writing.
His first book, published in 1688, comprises five masses which can also be parted in Magnificat and Thanksgiving for the happy recovery of the King (cinq messes qui peuvent être également répartis en Magnificatainsi qu'une Offerte en action de grâce pour l'heureuse convalescence du Roi) with an essential introduction for the interpretation of the repertoire of this period.
His second book, published in 1714, is less famous today, but is, nevertheless, an extremely well accomplished work in his form, and totally original in its musical and spiritual substance.