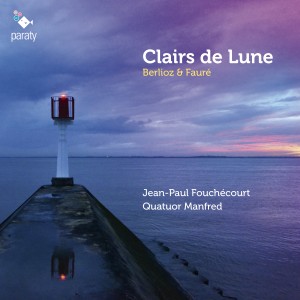 After more than 30 years of intense activity, the repertoire that our quartet has enjoyed, explored and championed is particularly vast. Several characteristics are expressed in it, and one of them is highlighted in this recording: our passion for the repertoire with voice.
The truly rich histories of string quartets, of the French mélodie and of the German Lied offer parallels, but curiously, they only rarely intersected (Schoeck, Wellesz, Schoenberg, Eisler, Hindemith, Milhaud wrote for voice and the quartet, but are not among the most sought-after composers). We often approach certain cycles through transcriptions that we commission or create for ourselves (Haydn, Schumann, Dvořák, Brahms, Mahler).
In response to the rich harmonic colours of Berlioz, Gabriel Fauré's string quartet makes its presence felt through its entirely symbolist intimacy, its finely chiselled harmony, and "its thought purified up to the threshold of abstraction and evanescence"
With regard to the Summer Nights and in order to pursue our singular poetic path with Jean-Paul Fouchécourt, our dear quintet partner proposed to us the Fauréan vision of Gautier's Lamento (Fauré kept the original title La chanson du pêcheur whereas Berlioz chose Sur les lagunes). In order to develop this long-distance dialogue between the two composers, we were tempted to compare the Clair de lune of Paul Verlaine by Fauré with that of Gautier by Berlioz.
This is how Clairs de lune was born, an album more poetic – more dreamlike – than musical, a truly personal album by our quartet, an amorous programme of mélodies for voice and string quartet.
Emmanuel Haratyk (Violist fot the Manfred Quartet).