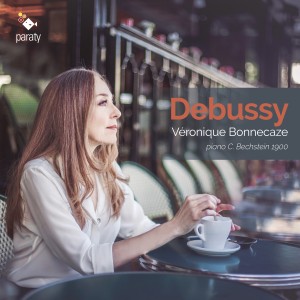 « The world falls asleep
In a warm light.
There, all is only order and beauty,
Luxury, calm and delight ».
"L'invitation au voyage" (Invitation to Travel), from "Les Fleurs du mal" (the Flowers of Evil) by Charles Baudelaire
At the end of the XIXth century, most French bourgeois families own a piano. This primarily decorative object is played, – sometimes reluctantly – by young girls who are looked upon with some condescension. The novels describing society in these times, have used and abused this somewhat futile image, but with some truth to it. From salon to salon, are played both virtuoso works from the romantic era (naturally by gifted amateurs) and works more accessible to all, garnered in a repertoire ranging from Johann Sebastian Bach (1685-1750) to César Franck (1822-1890). All piano history fits in these two centuries and there is little room for a new language. The young Debussy ripens his only slowly.
Incidentally, he's not among the most gifted among pianists. He's even reluctant to play virtuosic works, stunning his teachers with his rather unorthodox style of playing. His first compositions are in a rather outmoded romantic style that led Piotr Tchaikovski (1840-1893) who was sent his score of Danse Bohémienne, to deem rather insipid the writing of the one he used to call "The Little Bussy".
It is partly thanks to his acquaintances among writers and painters from the end of the XIXth century that Debussy's idiom evolved. In a context of heated international politics, the return to French classicism allows some artists to reaffirm the values of the age of Louis XIV. Some lock themselves up in pastiche while others make use of this technique in order to find more refined colours. The poems of Paul Verlaine (1844-1896) invite the adoption of this impressionism of tone which Debussy first brings to his orchestral works. The Prélude à l'après-midi d'un faune, the Nocturnes for orchestra, Pelléas et Mélisande, widen prodigiously the sound field. Then it is his piano's turn to experience a revolution which first goes almost unnoticed: Pour le piano in 1901 then Estampes two years later. All the works that came afterwards followed the process of this entry into the music of the XXth Century without the composer feeling the need to act as a pioneer. Indeed, his so prodigiously creative music, which today is played with too much caution, makes no claim of being avant-garde. In the musician's eyes, it simply expresses the pleasure to play and to discover new sounds.