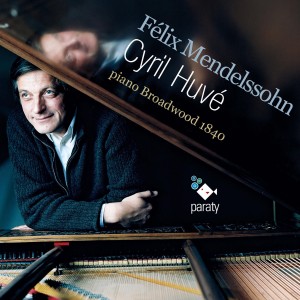 Schumann met Mendelssohn while celebrating Clara Wieck's birthday on September 13th, 1835; Mendelssohn had just been appointed the conductor of the Leipzig Gewandhaus Orchestra. As early as 1836, Schumann wrote to his sister-in-law Thérèse, "Mendelssohn: I look up to him as I would to a high peak. He is a real God." Later he would say, "I consider him to be the foremost musician of our time."
Mendelssohn was to become a guardian figure for Schumann, who included him in his work Dances of the League of David or Davidsbündler under the name of the character Felix Meritis. They shared in the common fight against philistinism in the Neue Zeitschrift für Musik (New Music Journal of Music), and their destinies were linked by a spiritual and artistic communion, reflected in their deep, family-like bond.
When, on November 4th 1847, Mendelssohn passed away, devastated by the recent passing of his beloved sister Fanny, Schumann wrote a short work for piano, which was to become part of his Album for youth, opus 68, entitled "Erinnerung 4 XI 1847." It was a touching personal tribute, in memory of a shared musical identity.
Marcel Beaufils summarizes Mendelssohn's contribution to music as follows: he is "the witness of old strengths and the initiator of Romanticism…The fairyland, the supernatural, the nostalgic, interior self are all present within his world, served by a solid technique which is marvelously laid bare." Indeed, Mendelssohn represents a crucial link between Johann Sebastian Bach's Baroque counterpoint, the flamboyant classicism of Mozart and Haydn, and the Symphonies of Beethoven on the one hand, and the Romanticism that was to follow. His connection to the future of music is especially evident in the music of Schumann.
Music runs in the family: his mother and his sister Fanny are authentic musicians, and his great aunt, Sara Levi-Itzig, was a former pupil of Wilhelm Friedmann Bach (1710 – 1784). From early childhood, Levi-Itzig familiarized Mendelssohn with the work of the Cantor of Leipzig. Every Sunday his parents organized musical get-togethers which were enjoyed by the most renowned intellectuals and artists in Berlin. Goethe received him several times and was generous with his time and attention. Finally, on the bidding of his father, Mendelssohn travelled to Paris, Italy and England to study with the great masters of each of these musical hubs to complete his education.
The piano was his first instrument; he had complete technical mastery of the instrument at an
age when others are merely embarking on their careers. Mendelssohn then invested all his energy into composition, conducting, and the foundation and operation of the Leipzig Conservatory and the Leipzig Gewandhaus Orchestra. As a result, his composition catalog immediately widened, avoiding the exclusive focus on the piano that characterizes Chopin's output. On the contrary, Mendelssohn turned his gifts towards song, chamber music, symphonic music, and choral music, with a hint of concentric circles around the piano, like Schumann.
Mendelssohn maintained his contact with the piano throughout his career despite his great musical versatility. Each of his professional activities nourished the others and his piano scores poured forth over the years. There seems to have been no pre-established structure for his opus for piano; it has a joyous, spontaneous quality, punctuating different moments in the composer's life. It is up to us to discover the inherent importance of each work: they form a series of expressive testimonies by a composer who lived each moment of his life through music.