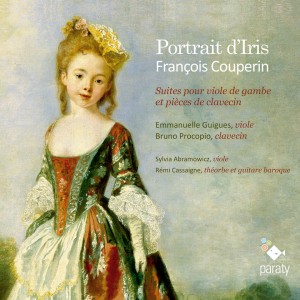 In its latest release, Portrait d'Iris, Paraty Records offers homage to François Couperin; the disc includes two suites for viola da gamba and basso continuo, the fourteenth Royal Concert and several works for solo harpsichord. Throughout this portrait of Iris, the four musicians (E. Guigues and S. Abramowicz, viola da gamba; R. Cassaigne, theorbo and baroque guitar; B. Procopio, harpsichord) explore the multifaceted music of their beloved Couperin.
The "Pièces de violes avec la basse chiffrée" par Mr. F.C.", published in 1728 and mentioned by the Mercure de France in August 1729, were long considered to be lost. It was only in the 1930's that the musicologist Charles Bouvet came across them by accident while performing research in the archives of the Bibliothèque Nationale. Unnoticed until then, the collection was signed only with the composer's initials. One may speculate as to why François Couperin did not sign the book with his full name, as he did for his other compositions: the mystery endures.
Legend has it that letters were exchanged between JS Bach and Couperin, and that Saint-Saëns had access to them. Although we do not know their contents, there is a clear convergence in the viol writing by the two composers: the timbre of the instrument itself is transcended well beyond the apparent limits of the instrument.