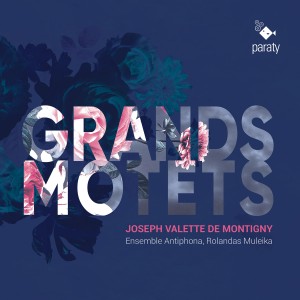 Grands Motets de Joseph Valette de Montigny
This Valette is one of the most stupendous geniuses we have and his music is stupendous too.
This is how the famed Sebastian de Brossard introduces his contemporary composer Joseph Valette de Montigny. Though acknowledged for its qualities, Montigny's music has very rarely been played. Nor has it ever been recorded. Simply on account of its rarity and the absence of scores, it has remained unpublished. Thanks to this CD on which two great motets are performed, Antiphona Ensemble and its director Rolandas Muleïka are filling a vacuum. These motets are two outstanding pieces in Joseph de Montigny's catalogue. Musicologist Benoît Michel, who died at a very young age, was the main instigator of this felicitous rediscovery: he would undoubtedly have felt enthusiastic about the release of this CD. This presentation draws to a large extent upon his work.