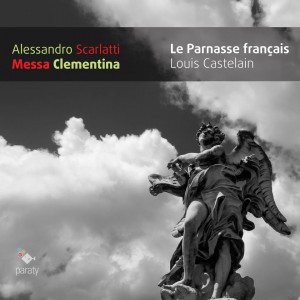 Alessandro Scarlatti
Messa Clementina
O Magnum Mysterium
Salve Regina
Giovanni Pierluigi da Palestrina
Tu es Petrus
Surrexit pastor bonus
Le Parnasse français
Louis Castelain, direction
Edwige Parat, Axelle Bernage (soprani)
Gabriel Jublin, Yann Roland (alti)
Jeffrey Thompson, Vincent Bouchot (tenori)
Guillaume Orly, Marc Busnel (bassi)
The Parnasse français ensemble, formed in 2000 by Louis Castelain, specializes in early music from the sixteenth to eighteenth centuries.
This recording project began at the Vatican Library with my first reading of the autograph manuscript of the Messa Clementina, which Alessandro Scarlatti composed for Pope Clement XI in 1705, for services in the Sistine Chapel, which was the Pope's private chapel.
In the seventeenth century, several decades before Scarlatti composed his mass, a Roman school was formed, prompted by papal bulls and decrees, and theorized by Papal Chapel singers. This Roman school retrospectively elevated Palestrina, who died in 1594, into an absolute master of sacred music.