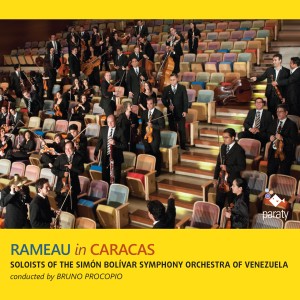 The Soloists of the Simón Bolívar Symphony Orchestra of Venezuela invited Bruno Procopio to conduct a programme dedicated entirely to Jean-Philippe Rameau. Discovering French Baroque music was an astonishing adventure for the Venezuelan musicians, and it marks their first foray into 18th century French classical music. This recording is also a foretaste of the celebration to come in 2014: the 250th anniversary of the composer's death.
Above all, I wanted to spark the curiosity of the orchestra's musicians for a kind of music which they never would have discovered on their own. I also wanted to work with an orchestra that had no experience of French Baroque music, in order to build a musical identity from scratch. This allowed me to search for my own vision of this music. To my delight, I found fertile ground.
During the break at one of the rehearsals, a musician came up to me and whispered: "Maestro, this is the best music I've ever played!" I could not have received a better reward.
Awards:
The magazine Classica's CHOC, 5 stars by the magazine Diapason, best disc of the week by Le Figaro and by the British radio Classic FM.