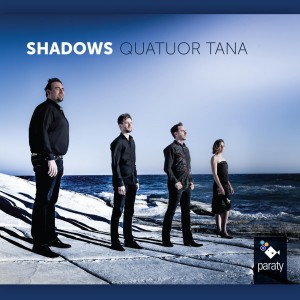 Yann Robin (1974) : Quatuor à cordes n°2 Crescent Scratches (2011) : à Raphaël Cendo
Raphaël Cendo (1975) : In Vivo (2008-2011) pour quatuor à cordes
Raphaël Cendo (1975) : Quatuor à cordes n°2 Substance (2013) : à mes amis du quatuor Tana
Franck Bedrossian (1971) : Tracés d'Ombres pour quatuor à cordes (2007) : à Alain Gaussin
Shadows combines poetry and vitality. This title is an allusion to the many harmonic shadows vibrating behind each single, clear note. The way we make each note resonate on the instrument causes the saturation phenomenon. You cannot hear the fundamental note, only its projections. We perform countless notes at breakneck speed – it's like playing while holding your breath.
When music is played at such a frantic pace, the ear experiences overload, and it sounds as if twenty musicians are playing at once. To perform scores by Yann Robin, Franck Bedrossian and Raphaël Cendo, you have to be fit, because the scores are so demanding.
The linguistic subtlety of Tracé d'ombres (2005-2007) is almost classical; it continues in the great string quartet tradition. Franck Bedrossian develops solos rich in color, accompanied very softly by a wide variety of timbres and soft gestures. It's as if he is stretching an elastic band and only releases it in the last twenty explosive measures of his piece. Raphaël Cendo's writing is exactly like the man himself: very sensitive and extremely refined. It's up to the interpreter to isolate the elements which need be heard, within this exuberant material. In Vivo (2008-2011) is an amazing piece, which suspends a central movement of absolute slowness between two hellish outbursts. For Substance (2013), we designed the "guero bow", which has notches. When our instruments are bowed with guero bows, it produces extraordinary sounds. It's a dizzying piece! Yann Robin's virtuosity in Crescent Scratches (2010-2011) is impressively clear. It comprises only sound components, which he combines in a series of small fugues which react to each other in quick succession. Clear, direct, pragmatic, he prioritizes structure and clarity, and does so with sensitivity.
suite de petites fugues qui se répondent très rapidement. Net, direct, pragmatique, il privilégie la structure et la limpidité avec sensibilité.