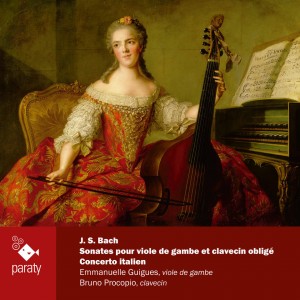 There are no certainties concerning the date of composition of the 3 sonatas for viola da gamba and harpsichord by Bach. Some think they date from his stay at the court of Coethen between 1717 and 1723, the next-to-last-stop of his long career, and one of the happiest periods of his existence. According to other sources, they would have been written in the years around 1740 at Leipzig where, from 1723 on, Bach occupied the difficult post of Cantor of Saint-Thomas.
These three sonatas present very distinct characteristics of style and writing, the first two adopting the scheme of Church Sonata in the Corellian type, in four movements, and the third evoking the frame of the Italianate concerto. The harpsichord is completely emancipated, never relegated to the role of simple accompanist, the right hand of the harpsichordist being employed as a second instrumental part next to the viola da gamba, and playing an eminently concertante part.
The Sonata in G major BWV 1027, also known in a version for two flutes and continuo (BWV 1039), opens with a generous Adagio of pastoral character, carried in imitative dialogue between the two instruments over the bass. Bach shows his skill in imitation in developing the zesty theme of popular character in the Allegro non tanto. This is followed by a sublime Andante in e minor built over slow shifts of poetical arppeggiations supported by a bass in eighth notes. The final Allegro moderato is an energetic and cheerful fugue.
The imitative dialogue of an Adagio, a genuine air, freely ornamented, inaugurates the Sonata in d major BWV 1028, soon followed by an Allegro full of joy with its spiritual grupettos as bass. After the Andante, solemn and intensely expressive, a profound meditation treated in canonical writing, over a theme with insistent ornaments, comes a vigorous Allegro. As a conclusion, this last one gaily dissipates the shadow of the preceding movement. At the center of the piece, Bach entrusts the harpsichord with a short cadential episode, before the conclusion announced by the gamba, in delightful rhythmic figures.
With the Sonata in g minor BWV 1029, Bach takes us to the world of the concerto, with an initial Vivace of exceptional contrapunctual wealth and rhythmic variety. The theme itself proposes very soloistic rhythmic articulations. In its economy of means, the ample Adagio in b flat major, where the two voices linger over the black notes of the harpsichord's bass line, is a touching moment of great beauty. Bach then closes this sonata with a driving concerto finale Allegro, lightly seasoned with a charming small cantabile motif which reappears several times during the course of the piece.