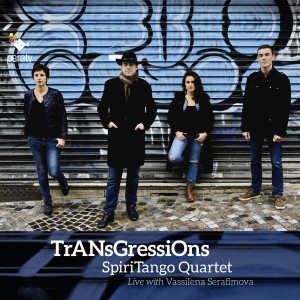 TrANsGressiOns
After eight years of performing together, the SpiriTango Quartet now proposes mind-blowing original versions which are almost transgressive. They bring a freshness and a novelty which goes beyond the scope of traditional tango.
Indeed most of the pieces on the album are French works from modern-day composers, adding another dash of boldness. Such was SpiriTango's original aim: to assert themselves with a great deal of personal inspiration.
As one of many diverse transgressions, here the accordeon completely replaces the bandoneon —the emblematic tango instrument— while bringing a palette of unique colours. Returning this instrument to its rightful position has been the quartet's challenge for many years.
At the heart of the programme, SpiriTango premieres the Opale Concerto for accordeon and orchestra, composed by Richard Galliano and arranged for a chamber orchestra performance.
We also revisit the famous Astor and his Camorra III, echoing the mafia world of his era. Piazzolla was a transgressor throughout his life and the creator of concert tango, called nuevo tango. His Romance del diablo is performed here, for the first time ever, as a quartet version. This work contains heartrending harmonies, leading to damnation.
The ensemble doesn't only focus on famous tango pieces, but significantly promotes two young French composers, Matthieu Stefanelli and Alexandre Fontaines, through two original works: Cabeceo and Para descansar. In the world of tango and of music in general, which is male-dominated, SpiriTango has taken on another important battle: to bring female composers into the limelight. On this occasion, it is Graciane Finzi, with her Impression Tango.
Finally we are transported to Latin America with the Argentinian composer Luis Caruana through the famous Brazilian pieces Odeon and Tico-Tico. These exhilarating hits with swaying rhythms have been entirely arranged by the group. They put forward a personal version which goes beyond the codes of the classical music world.