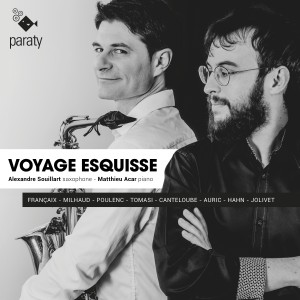 Several well sketched silhouettes…
A hint of folklore, the stamp of local soil, the aromas of exotic lands.
These characterised miniatures, enriched by these influences, come to life in the sophisticated writing of French composers from the first half of the twentieth century, filled with spirit, humour and tenderness for their models.
Energetic yet chiselled, their elegance à la française is inspired by the relationship of the saxophone to the piano, alternately profound, strong or fresh. The original repertoire that they offer us has won over its audience and was – or will be – in every saxophonist's bag one day!
But this recording's programme also benefits from a wealth of transcriptions with a selection of less familiar Vocalises-études. Initially commissioned for the intention of vocal studies at the Paris conservatory, these pieces have surpassed their original educational purpose. Almost stylistic digests, these compositions have succeeded in captivating the world of instrumentalists as well.
Darius Milhaud's Quatre visages written for viola and piano is yet another gem of a transcription, finding a second « wind » in this new adaptation for saxophone.
A series of stylised portraits that completes this fresco of images and flavours with great evocative power.