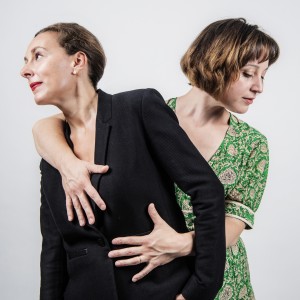 Anne Cartel (flute) et Marie Vermeulin (piano)
Anne Cartel
Close to both new composition and classical repertoire, Anne Cartel defines herself as a sensitive and engaged artist, always ready to push the boundaries of music. She performs frequently with symphonic orchestras as well as in chamber music formations or as a soloist. She has thus
played with orchestras such as the Orchestre Philharmonique de Radio France, the Ensemble Orchestral de Paris, or the Orchestre National des Pays de la Loire, under the direction of conductors like Myung Wung Chung, Esa-Pekka Salonen, Mikko Franck or Armin Jordan.
She has been invited to play, both in France and internationally, in prestigious festivals and halls, such as Wigmore Hall and St John's Smith Square in London, Festival Présences of Radio France, Festival Messiaen au pays de la Meije, Bourgie Hall in Montréal, Town hall in Seattle, Fundacion BBVA in Bilbao, Cervantino International Festival in Guanajuato, Music on Main in Vancouver, Lille Piano(s) Festival, Mural Museum in Mexico, Ferst Center for the Arts in Atlanta, Barge Music in New York,
French Alliance in New Delhi, Festival Arabesque in Hamburg, Ottawa Chamberfest music festival, Auditorium in Lyon, Arsenal in Metz, Théâtre des Arts in Rouen, Bristol New Music festival, Festival Heidelberg Frühling, Gaudeamus Muzieckweek in Utrecht, Musica Sacra in Maastrich, Lisinki Hall in Zagreb, Gregynog Music Festival…
Passionate about contemporary music, Anne Cartel has found a place with the ensembles Court-Circuit and Variances of which she is a member, and collaborates with the ensemble Athelas Sinfonietta in Copenhagen directed by Pierre-André Valade, as well as with composers like Tristan Murail, Michaël Levinas, Philippe Leroux, François-Bernard Mâche, Mauro Lanza,
Lara Morciano, Michele Tadini and Gabriela Ortiz. Her explorations with the talented Philippe Hurel and Thierry Pécou have led her to several recording projects: Les liaisons magnétiques 2016, Tremendum (diapason d'or) 2012 by Thierry Pécou, Cantus by Philippe Hurel 2015, Sadka by Christophe Bertrand, Imaginary travel by Marc Monnet 2008, cinq degrés de crayonnage by Riccardo Nillni 2012.
Anne Cartel's musical world is thus defined by a spirit of open-mindedness and the desire to serve the most challenging classical and contemporary repertoires.
Marie Vermeulin
Winner of several grand prizes in international competitions (notably the Concours Maria Canals in Barcelona in 2006 and the Concours Olivier Messiaen in Paris in 2007), Marie Vermeulin has progressively imposed herself on the French piano landscape, distinguishing herself with playing of great sonic richness, and with her engagement with composers and creators of her time.
She is invited to perform in major festivals and halls, in France (Théâtre des Champs-Elysées, Philharmonie, Opéras de Paris and Limoges, Printemps des Arts de Monte Carlo, Théâtre des Bouffes du Nord…) as well as internationally (Europe, North America, North Africa, the Near-East and South-East Asia).
She regularly performs concertos and collaborates in this context with numerous prestigious orchestras and conductors (Ensemble Intercontemporain dir. Pierre Boulez, Orchestre Lamoureux dir. Darell Ang, Orchestre Philharmonique du Liban dir. Walid Moussallem, Orchestre de l'Opéra de Toulon, dir. Fuad Ibrahimov, Ensemble orchestral contemporain dir. Daniel Kawka, Orchestre de chambre de Wallonie, dir. Paul Goodwin, Orchestre Victor Hugo Franche Comté dir. Debora Waldman…).
Her recordings, reflections of her personal affinities, are dedicated to Olivier Messiaen, Claude Debussy, Clara et Robert Schumann, Tristan Murail, Bela Bartok, Charlotte Sohy, Mel Bonis, Virginie Morel…
In November 2014, her entire career was recognized by the Académie des Beaux-Arts, who attributed her the Prix d'Interprétation Simone et Cino Del Duca