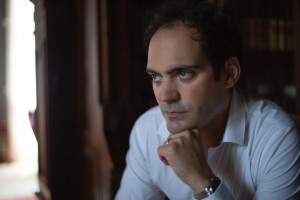 Blaise Ubaldini
A truly original musical personality, Blaise Ubaldini is one of the most promising French composers of his generation. His expressive and uniquely inspired music shifts between an insatiable desire for vitality and colour, and a search for depth and authenticity.
A musician with an eclectic background, a clarinettist who plays improvised music and rock, he has rubbed shoulders with outstanding soloists from all musical genres, including classical, contemporary, jazz, and world music, and has used his works to create unexpected musical encounters.
In the monodrama Bérénice, performed at IRCAM in 2014, alongside the Swiss actress Caroline Imhof and the Ensemble Intercontemporain Soloists, he explored an unprecedented osmosis between theatre and music. In 2016, he performed Love song for a long-term hatred with the Israeli trombonist Alon Stoler and the Chémirani Trio, a prestigious ensemble of Iranian percussions. He has collaborated as a clarinettist, then an arranger, with the Tunisian brothers Amine & Hamza Mraihi, virtuosos of the oud and the qanun, and cellist Vincent Ségal on the album Fertile Paradoxes.
His works introduce unconventional and extra-instrumental elements into musical discourse, as well as texts, songs, and onomatopoeias, like so many authentic behaviours or gestures, forever questioning the nature and memory of being and of music alike.
One example is his wind quintet In the backyard premiered in 2018 by the Ensemble Intercontemporain soloists at London's Wigmore Hall and dedicated to two characters from Twin Peaks, the signature television series by American director David Lynch.
Introduced to composition by William Blank in Lausanne, he joined the class of Michael Jarrell and Luis Naón in Geneva, followed by Ircam in Paris for two years. During this period he met the conductor Pierre Bleuse who directed his chamber opera 4.48, for which he was awarded the Prix Nouveau Talent Musique SACD 2013, as well as the soprano Tatiana Probst with whom he created Sunbathing for voice and electronics at Ircam.
He holds a degree in Indian studies from Lausanne University's Faculty of Oriental Languages and Civilizations, and has been working on languages and the voice for many years. He has recently begun writing texts, a kind of literary counterpoint that reveals what is at stake in the shadows of his musical works in the spotlight. His collaborators include the Ensemble Intercontemporain, conductor Pierre Bleuse, the Collegium Novum Zürich, the Orchestre de Chambre de Genève, soprano Lisa Tatin, the Lucerne Festival Alumni Ensemble, soprano Kornelia Bruggman, the Indiana University New Music Ensemble, clarinetist Jean-Marc Fessard, the vocal ensemble Exaudi, the CH.AU company, the Matka ensemble, and the duo Interférences.