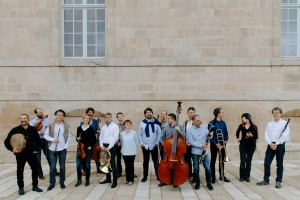 Founded in 1989, the Ensemble Orchestral Contemporain was one of the first independent French ensembles dedicated to contemporary music. Through its creations and tours in France and abroad, the EOC has taken a special place in the musical landscape.
It is recognised as an essential interpreter of 20th and 21st century music and an important player in musical creation, trusted by composers of all generations. Today, the EOC has over 700 works in its repertoire, including 300 premieres. Constituted as an instrumental ensemble whose musicians can also play the role of soloist, the EOC brings together some fifteen instrumentalists under the artistic and musical direction of Bruno Mantovani.
The Ensemble offers concerts in medium and large formations, promotes the pure instrumental concert but also the mixing of instrumental and electroacoustic sources and calls upon other imaginary worlds (dance, opera, literature, visual arts). Covering more than a hundred years of music, the Ensemble has an international reputation and contributes to the influence of its home region, the Loire, by responding to invitations from major artistic and cultural venues in France and abroad.
In the Auvergne-Rhône-Alpes region, the EOC is also committed to mediation and transmission by building training, discovery and creation projects with its local partners. By addressing audiences of all ages and backgrounds, the EOC shares music with as many people as possible and contributes fully to the artistic and cultural life of its region.
—
The Ensemble Orchestral Contemporain is subsidised by the Ministry of Culture and Communication
– DRAC Auvergne-Rhône-Alpes, the Auvergne-Rhône-Alpes region, the Département de la Loire and the city of Saint-Étienne. the Loire and the city of Saint-Étienne. It is supported by the SACEM, the SPEDIDAM and the Centre National de la Musique.
Since 2022, the EOC has been in residence at the Opera of the city of Saint-Étienne.