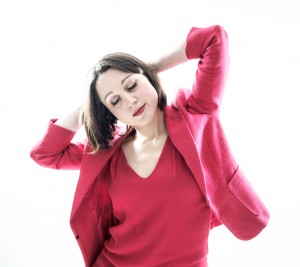 A First Prize winner of the International Music Tournament (Italy, 2004), and Grand Prize winner at the Maria Canals International Music Competition (Barcelona, 2006), and the Concours International Olivier Messiaen (Paris, 2007), Marie Vermeulin is undoubtedly a major discovery of recent years. In recent years her playing has been noticed for its technical temerity, finesse, and exceptional maturity.
Despite her youth, Ms. Vermeulin boldly engages with demanding works such as Stravinsky's Trois mouvements de Petrouchka, Schubert'sWanderer-Fantaisie, Ravel's Gaspard de la nuit. She also plays major contemporary works (Boulez, Murail, Messiaen…), revealing an appetite to play and immerse herself in the widest possible repertoire.
Ms. Vermeulin's phrasing, her colorful and poetic touch, and her taste for theatrical expression all contribute to an artistic temperament that is distinguishable from the very first notes. Her concerts are greeted by unanimous praise, and listeners are delighted to discover a complete artist with a tonal palette of remarkable richness.
Before her thirtieth birthday, the pianist has already worked with the greatest conductors, (Pierre Boulez, Paul Goodwin…) and has performed in many of the finest festivals and venues in France (Cité de la Musique, Opéra Bastille…) and abroad (Spain, Italy, Germany, Lithuania, Switzerland, Belgium, Algeria, Moldova, Montenegro, Lebanon, Ethiopia, Vietnam, Indonesia, Philippines…)
After her musical studies at the Conservatoire National Supérieur de Musique de Lyon and the Accademia Pianistica Internazionale of Imola, Ms. Vermeulin developed a special affinity with French music, including the work of Olivier Messiaen. Her interest in Messiaen has been encouraged by the great Messiaen interpreter Roger Muraro with whom she has performed Visions de l'Amen for two pianos.
Coinciding with Olivier Messiaen's centennial in 2008, Ms. Vermeulin became known for her performances of a large number of works by the composer. Since then she continues to perform Messiaen's work regularly throughout the world, sometimes coupling her recitals with master-classes and conferences. A regular guest at the Messiaen Festival in Meije, she chose to record this album at the Church of La Grave, known for its exceptional acoustics which were an inspiration for the composer.