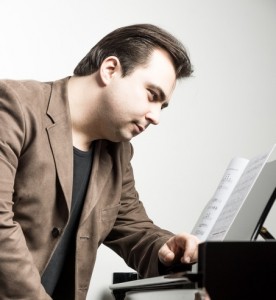 Born in Nice (France) on 8th March 1985, Matthieu STEFANELLI learned to play the piano at six years old at the Nice Conservatoire and received a very complete musical education (musical analysis, chamber music, choral singing and composition with Jean-Louis LUZIGNANT).
At 16 he joined the piano class of the Paris CNSM (Consevatoire National Superieur de Musique) with Jacques ROUVIER, Prisca BENOIT and Bruno RIGUTTO. He also studied musical analysis with Alain LOUVIER, chamber music with Claire DESERT, Ami FLAMMER, Yovan MARKOVITCH and Hatto BEYERLE (Quatuor BERG), conducting an orchestra with Philippe FERRO, then orchestration at the Paris CRR (Conservatoire à Rayonnement Regional), still with Alain LOUVIER, then with Anthony GIRARD.
He obtained three prizes at the CNSM and several international prizes (Orléans, Brême, San Sebastian, FNAPEC, Forum de Normandie, etc…).  His career as a soloist and chamber musician took him to more than ten countries, particularly with the trio Métabole with the violinist Besa CANE and the cellist Julien LAZIGNAC, as well as the tenor Patrick GARAYT. He recorded several discs and founded the Lacryma Voce choirs in Paris in 2016.
As early as 2005, Matthieu STEFANELLI regularly met Bernard CAVANNA, who provided support and tutoring in his work as a composer.  He was one of the finalists in the Boulogne-Billancourt International Competition for young composers in 2006 when Philippe HERSANT was President of the jury.  He was nominated « Composer in residence » at the Abbaye de La Prée in 2019 and 2020 and at the Festival of Chapels on the Island of Groix (Brittany) in 2013 and 2014. In 2015 he won the Charles Oulmont Foundation pianist and composer prize, and in 2019 the Banque Populaire Foundation composer prize, who supports him for his first album Chroma with his piano concerto (Label Paraty) – in 2020.
His opera Nadir (commissioned by Levallois) is nominated for the prize of Musical Teaching by the CEMF (Chambre Syndicale des Editeurs de France) in 2018. Massy Opera commissioned a piece for a symphonic orchestra: Hypnos (2019). His Illusions, Ombres chinoises and Sonata-Partita are included in the list of exam pieces in all the Conservatories in France by the CMF (Confédération Musicale de France).
His works are published by Henry Lemoine, Combre, Gérard Billaudot, Klarthe, Delatour France and Lacroch'. Some of them have been recorded as CDs by the SpiriTango Quartet (Cabeceo), Matthieu Delage and Magali Albertini (Mélisma), Nima SARKECHIK (Passacaglia) and Tristan PFAFF for France Musique in Montpellier (Illusions).