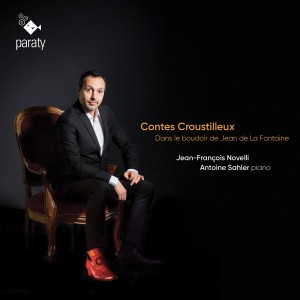 Contes Croustilleux
Jean-François Novelli
Antoine Sahler, piano and compositions
Juliette, Guest Artist (Polydor, Universal)
Jean de La Fontaine is one of the greatest authors in French history, that's a fact. But strangely enough, his texts in their time were hardly ever set to music. It must be said that his relationship with musicians was not the best.
It was not until the middle of the 19th century that the author's beautiful pen once again attracted the interest of composers. If his fables have since found music in their verses, his tales, nay! Yet it was precisely these tales that first made him known and recognised by his contemporaries.
What a pity they were left behind!
The desire was then born to have these stories heard. The meeting with Antoine Sahler, singer, songwriter and pianist, decided the next step in the project: these beautiful texts would be dressed up in songs. That's it!
The composition work," he says, "was guided by the constant concern to make La Fontaine's texts perfectly intelligible. So I had more the impression of writing"