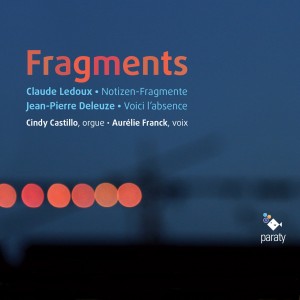 This recording is the result of a promise made by two young musicians in the midst of a unique and enthralling artistic adventure.
The adventure began in April 2009, when then-resident organist Cindy Castillo invited her favourite chamber music partner, singer Aurélie Franck, to Japan's Sapporo Concert Hall.  The concert included the premiere of the first book of Claude Ledoux's Notizen-Fragmente (Fragmentary Notes), a work written specially for the two of them on youthful texts by Rainer Maria Rilke: Notes on the Melody of Things.
During the concert, the spell-binding alchemy of voice and organ was suddenly magnified by the sensual writing of this bespoke work, so well-suited to the duo's artistic personality.  Emotions soared…
At the end of the concert, the artists promised each other that they would continue down this privileged path of performing works inspired by and composed for them.
And so in March 2012 they persuaded composer Jean-Pierre Deleuze to write a new song-cycle for organ and voice, for inclusion in a concert centred on Angels (and Demons) at the Ars Musica festival.  The result was Voici l'absence – Cinq déplorations en antiphonie (Here is Absence – Five Antiphonal Deplorations), a work of deeply poetic, humane music on texts of Baschô, Jacques Crickillon and Henri de Montherlant.  Once again the alchemy was present, as was the emotional response.
The two artists, who so sensitively blend the breaths of human voice and organ in contemporary works, then made a promise to take their adventure a step further: by recording the two works written for them.
Here, then, is the fruit of that promise, a disc which couples Claude Ledoux's Notizen-Fragmente, expanded to include a second book, and Jean-Pierre Deleuze's Voici l'absence – Cinq déplorations en antiphonie.