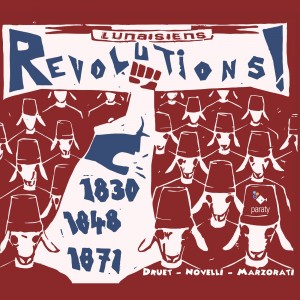 A chronicle centred on three revolutions, through the music of history and not the history of music; a humble music that became great 'because it wanted to change the world'!
Hymns and songs of 19th century men, accompanied by two major instruments, opposites that have been reconciled: the living-room's piano and the street's barrel-organ, the one the French call the 'barbarous organ'.
One, the piano, is the instrument of the bourgeois, of the new ruling class, fitted to romances such as Beaupan's 'J'ai Peur' ('I'm scared') or Paul Henrion's 'Aime, Travaille et Prie' ('Love, Work and Pray').  Trying to reassure themselves however they can, they still fear that 'dangerous class': the paupers, the terrifying ones who recognise themselves in the strains of the 'Internationale': 'Arise, you damned of the earth…'
The other, the barrel organ, is the instrument of the worker, of the man of the street, of the poor, of those who will later be sung by Richepin…  They sing under windows for the sake of a few coins, singing the hits from the great operas, an aria from Offenbach's La Périchole, for instance… for the street singer dreams of the diva.
They sing in the streets and they are shot at.  'Long live death and equality,' Cazalis preaches in 'Danse Macabre'.  One hope only for those who rebel: a circle of the dead or a kiss from Claire, Béranger's pretty laundress, the 'gravedigger's daughter'… the kiss of Death.