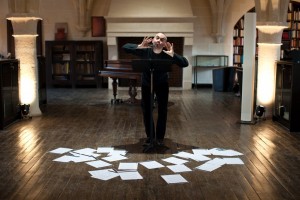 Lunaisians ? Of a sentence that is simple, but not banal (coming as it does from Raymond Queneau), we have made our commitment, and taken our ensemble's name.
What is the sentence?
'The Lunaisians are the inhabitants of the moon…'
We seized upon this inescapable definition, as beautiful as it is playful; to define and claim the artists we wish to be: Lunaisians.
Our creed: to meet, through music and through words (since we are singers of words) the multitudinous creations that abound in the musical repertoire; to open the borders between eras and shine as much on a madrigal by Gesualdo as on a pirouette of Offenbach's, a Bach chorale or Béranger's songs.
True, Lunaisians are great dreamers, since like Pythagoras they dream of the 'music of the spheres'… But it was starting from a dream that led men to walk on the moon.
Already, several festivals and institutions have accompanied this ensemble as they serve their apprenticeship to this musical dream.  These include the Paris Opéra Comique, the Cité de la musique, the Utrecht Festival, the Centre de musique baroque de Versailles, Venice's Palazetto Bru Zane, the Pontoise, Prague, and Île de France Festivals, the Conservatoire de Genève, the region of Picardy, etc…
Artistic Director : Arnaud Marzorati