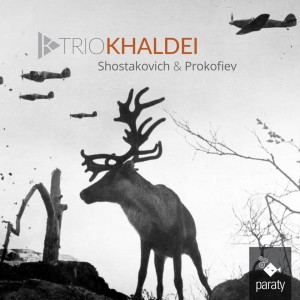 Dmitri Shostakovich
Piano Trio No. 1 in C, Op. 8
Piano Trio No. 2 in e, Op. 67
Sergei Prokofiev
Ballade for cello and piano in C, Op. 15
5 Mélodies for violin and piano, Op. 35
Shostakovich (1906-75) composed his two Piano Trios in 1923 and 1944 respectively. The works are diametrically opposed in almost every way.
The Piano Trio No. 1 Op. 8 is one of Shostakovich's true early works (written when he was just 17!) and is lled with the romanticism and passion of the composer's rst amorous encounter. Little of this romantic vigour remains in the Piano Trio No.2 Op. 67, a product not of love, but of war. The listener needs only to compare the opening bars of the two works to hear the contrast: the full sound of the cello in the rst is markedly di erent from the fragile and barely audible introduction, played by the cello in harmonics, to the second trio.
The atmosphere created in the two Proko ev pieces presented here is more in keeping with that of Shostakovich's Trio No. 1.