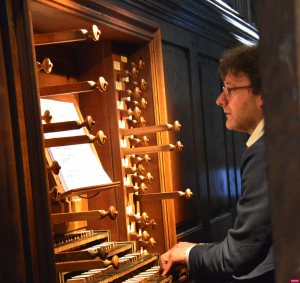 Jean-Christophe Revel, organ
Jean-Christophe Revel discovered the organ with Jean-Marie Meignien and more particularly the old organ. This is perhaps why he has never stopped putting music and history, ancient music and works of our time into perspective, and for 20 years he has been working on the transmission of repertoires and musical practices over time.
He perfected his art with Odile Bailleux. He was rewarded with a first prize for organ and "prix de perfectionnement" for specialization in early music. Under the direction of Georgie Durosoir, he devoted his master's degree to the tablature of B. Schmidt Le Jeune (1607). His meeting with Jean Boyer and Jean- Charles Ablitzer is also decisive in the pursuit of his musical journey.
Convinced chamber musician, Jean-Christophe Revel accompanied artists such as James Bowman, Josep Cabré, Isabelle Desrocher, William Dongois, Eugène Green, Raphaele Kennedy, Manuel Weber, Marcel Pérès and Jean Tubéry, among others, as well as with different ensembles. (including the Musicians of Parnassus and I Sospiranti). Curious about all musical genres, he works both in the fields of early music and in those of today's music with many composers who write for him such as J. Lenot, E. Tanguy, R. Campo, B. Pauset, E. Canat de Chizy, G. Pesson, A. Markéas, B. Mantovani, B. Clouteau or even C. Roche or G. Lorieux. He is a guest artist at numerous festivals, (in France and abroad), records for France Musique radio and european television. Since 2014 he is the pedagogical manager of the early music department of the CRR de Paris, teaches basso continuo, old repertoires on the organ at the PSPBB and is director of the keyboard festival in the Auch region, where he is the permanent organist at the magnificent console of the Jean de Joyeuse instrument at the cathédrale of Sainte-Marie.
Vincent Lièvre-Picard, haute-contre
He studied at the Tours and Paris Conservatoires, and then at the Conservatoire Supérieur. He graduated from these three establishments in Lyrical Singing (unanimous First Prize) and in Early Music (Post-Graduate Diploma with honours). His teachers were Noémi Rime and Howard Crook in Early Music, and Ana Maria Miranda and Anne-Marie Rodde in Lyrical Singing. He studied with Udo Reinemann for several years, and he also took master-classes with Alain Buet. His current coach is François-Nicolas Geslot.
At the opera, Vincent Lièvre-Picard has performed works by Charpentier, Rameau, Mozart, Haydn, Offenbach and Carl Orff: the title role of Charpentier's Actéon at the Théâtre de Bordeaux, Rameau's Zoroastre in Marseille, Cecco in Haydn's Il Mondo della Luna in Angers and Die Erzähler in Orff's Der Mond at the Opéra National de Paris-Bastille. He was Tamino (Die Zauberflöte) in Toulon, Monostatos, and the Servants in Offenbach's Les Contes d'Hoffmann in Grenoble. He recently sang Arnalta in Monteverdi's Incoronazione di Poppea conducted by René Jacobs, and then took part in the world premiere of Le Petit Prince by Michaël
Lévinas, conducted by Arie van Beek and staged by Lilo Baur – in which he sang L'Aviateur – first in Lausanne, then in Lille, at the Grand Théâtre of Geneva and finally at the Théâtre du Châtelet in Paris. Gentilhomme staged by Denis Podalydès. In the concert hall, under Michel Corboz's impetus, Vincent's renderings of the Evangelist in Bach's Passions have acquired an international prominence; he also frequently performs pieces from the French Baroque repertoire – ideally suited to his effortless high notes and his understanding of the proper style required for the "French haute-contre" parts – and oratorios by Mozart, Haydn, Berlioz, Dvorak, Rachmaninov, Orff and Britten. .Several recordings of his are about to be published. They will complement a discography that can already boast 30 releases, of which several have been awarded prestigious distinctions (Diapason d'Or, Choc of Le Monde de la Musique, Prix Massenet for the best complete recording of a French opera, CD of the month of the Goldberg Magazine…).
Lisandro Nesis, taille
Born in Argentina, Lisandro Nesis started his artistic studies at the Buenos Aires Conservatory, then moved on to study early music singing in France at the Centre de Musique Baroque de Versailles and the Conservatoire National Supérieur de Musique de Lyon. He has also participated in many early music workshops and academies (Ambronay, Royaumont…) and trained as an actor in commedia dell'arte (Carlo Boso, Alberto Nason) and Baroque gesture (Nicole Rouillé, Benjamin Lazar), as well as in American musical theater interpretation (Jen Waldman & Andrew Byrne in New York, Julie Atherton & Paul Spicer in London). He has performed as a soloist in over fifteen countries with prestigious ensembles such as Le Poème Harmonique, Les Musiciens du Louvre, Il Seminario Musicale, Elyma, La Tempête, Les Nouveaux Caractères, Cappella Mediterranea… Within the Baroque repertoire, he has performed the opera roles of Octavio (L'Europe Galante by A. Campra, W. Christie, cond.), Ruggiero (La Liberazione di Ruggiero dall'Isola d'Alcina by F. Caccini, G. Garrido, cond.), Pastore and Spirto (L'Orfeo by C. Monteverdi, S. d'Hérin, cond.), Phoebus (The Fairy Queen by H. Purcell, S. d'Hérin, cond.), Licas (Scylla et Glaucus by J. M. Leclair, S.d'Hérin, cond.), Sailor (Dido & Aeneas by H. Purcell, K. Weiss, cond.), to name a few. He has also performed as a tenor soloist in two international touring productions of Le Bourgeois Gentilhomme by Molière and Lully, staged by Benjamin Lazar with Le Poème Harmonique (V. Dumestre, cond. – DVD Alpha) and by Jérôme Deschamps with Les Musiciens du Louvre (M. Minkowski, cond.). He also performed, to critical acclaim, the title-role in the opera Atys by J.-B. Lully in a historically-staged production at Château de Meudon for the reopening of the Grand Dauphin's Orangerie.
He appears regularly in solo concerts and Baroque recitals in France, Germany and South America and has an extensive discography.
Lisandro Nesis is a member of the faculty of the early music department of the Paris Conservatory (CRR de Paris), where he teaches Baroque gesture, historic pronunciation, declamation and theatricality.
Jean-Manuel Candenot, basse-taille
A pupil of Lionel Sarrazin, Jean-Manuel Candenot performs a wide range of repertoire from baroque music to contemporary creation. In this field, he is a member of the Musicatreize ensemble (Victoire de la Musique 2007). He regularly performs oratorio and opera in France and abroad (Brazil, United States, Colombia, Peru, Netherlands). He has been invited to perform in numerous festivals such as La Chaise Dieu, Aix-en- Provence, Salzburg.
His projects will lead him to participate in the creation of two chamber operas: "El Reto" by Paul Desenne, and "Allongé sur le Divin" by François Rossé, and he will sing the role of Jesus in the "St John Passion" by Bach, in Toulouse (Festival: Passe ton Bach d'abord). Finally, he will be the title role in "Don Pasquale" (Donizetti) in the summer of 2022, and will record works by the American-Swedish composer Kali Malone as part of a video recording for the Blogothèque de Paris.
Passionate about teaching and research, he gives singing lessons at all levels.
Jean-Manuel Candenot is a member of the Radio France Choir (M. Batič), as Bass.