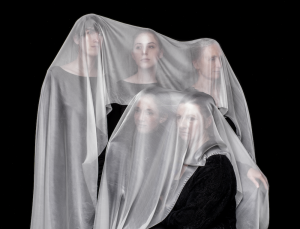 The singers of Mora Vocis, performing by heart and with flowing movement, captivate each form of architectural heritage. With their whirls of sound, the artists interact with the acoustic characteristics of each venue, drawing the attention of the public to parts of the edifice they often no longer even notice. Each venue, whether it be of historic interest or purely unconventional, becomes an integral part of the journey.
A dash of humour and an unexpected flight of fancy provide the finishing touches to each production.
Somewhat like builder journeymen, Mora Vocis is inspired as much by the physical medium as the beauty of the medieval manuscripts.
Rather than attempting to produce a historical reconstruction, the singers simply share their passion for these musical treasures, from virtuosic neumæ to the complex polyphony of Ars subtilior.
Many a contemporary composer and music maker has been won over by medieval thinking. A poem, canticle or melody from the Middle Ages serves as inspiration for compositions that fit the voices of Mora Vocis like a glove. The singers enjoy interpreting these new scores with the same uncompromising approach they adopt for the early repertoire.