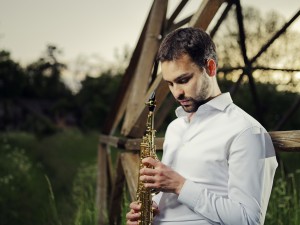 Eudes Bernstein, saxophones
After starting his musical studies in the Yvelines, Eudes Bernstein obtained a Paris Conservatory's Master degree in saxophone under Claude Delangle. He also studied with Daniel Gauthier during an Erasmus exchange at the Cologne Hochschule and completed his training with a degree in musicology from the Sorbonne.
Award winner in several international competitions (Osaka, Dinant, Aeolus, FMAJI, FNAPEC), he has
performed as a soloist with many international orchestras (Orchestre de Chambre de Belgique, Düsseldorfer Symphoniker, Sud Westphalen Philharmonie, Orchestre Pasdeloup, Orchestre d'Harmonie de la Garde Républicaine, Orchestre de Chambre Nouvelle Europe) notably under the direction of David Reiland, Benjamin Levy, Nicolas Simon, Julien Leroy, Romain Dumas and Martin Lebel. He is also one of very few saxophonists to receive support from the prestigious Fondation Banque Populaire.
He is also the founder of the atypical Trio Dämmerung, with violin and piano, whose ambitious project is to create new transcriptions of works from the great orchestral repertoire (Ravel's La Valse, Stravinsky's Petrouchka, Debussy's Prélude à l'Après-midi d'un faune, Berlioz' Symphonie Fantastique). The trio works with the collective of arrangers Lacroch', clarinetist Paul Meyer and soprano Marina Viotti. It was featured on Radio France in Gaëlle Le Gallic's program « Générations Jeunes Interprètes ».
Very much attracted to contemporary music, Eudes Bernstein premiered the concerto for saxophone
by Karol Beffa as well as works by Thierry Escaich, Bruno Mantovani, Philippe Hurel, Matteo Franceschini, Jonathan Pontier, Naoki Sakata, Philippe Leroux and Orlando Bass. In 2020 he performed at the Venise Biennale in the world premiere of Habitat, a multimedia work in collaboration with the composer Francesco Pellegrino and the visual artist Roberto Cassano under the direction of Thierry Coduys and Andrew Quinn.