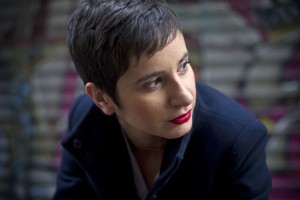 "Azzuro: the young French pianist's crystal-clear, poetic and luminous playing matches her surname to perfection." Alain Cochard –concertclassic.com
Fired by an insatiable curiosity and decided zest for the fusion of musical and artistic styles, Fanny Azzuro, born in 1986, dedicates her first solo recording to the Russian repertoire so dear to her heart, from which she has chosen three contrasting works from the 20th century.
Prize-winner at several prestigious international competitions, including the World Piano Competiton in Cincinnati (World medalist, 4th prize), Lalla Meryem in Rabat, Morocco (Best interpretation of modern music and the Chopin prize), Washington International Piano Competition (semi-finalist), Piano Campus (Best interpretation of modern music), Vulaines-sur-Seine (1st prize), she has been invited to perform on many national and international stages: in Paris, at the military museum in Les Invalides (showcasing young artists just starting their career), at the National archives in Hôtel de Soubise (Festival of young artists) and at the maritime museum; as well as at the Debussy museum in Saint-Germain-en-Laye, at the Abbaye aux Dames (Saintonge Piano Festival), at the Montpellier 'Radio France' Festival, at the Prades Pablo Casals Festival, at the Piano Campus Festival in Cergy-Pontoise, at the Annecy Classic Festival, at the Auditorium de Vaucluse, at the Passerelle national venue in Gap; in Germany, in Austria, at the Salzburg Mozarteum, in Belgium at the Brussels Royal Conservatoire, in Luxembourg, in Italy, in Spain and in Croatia. She also performed in the United States (New York Piano Festival, Bowdoin Music Festival, Texas Piano Festival), Morocco, Djibouti, Brazil, the United Arab Emirates and China.
She has also been heard on the radio, in broadcasts by France Inter, France Musique, France Culture, RFI and FIP.
She started studying the piano in Saint-Rémy-de-Provence with Jean-Pierre Lecaudey and then José Arrué, at the Montpellier Conservatoire with Mireille Michaud and Suzan Campbell, at the Paris Regional Conservatoire with Olivier Gardon then at the Paris National Conservatoire with Théodore Paraskivesco, Laurent Cabasso and Denis Pascal, when she completed –respectively– herBachelor's and Master's degrees in Piano and Chamber music (in the classes of Jean-Noël Crocq and Ami Flammer with the SpiriTango Quartet). In 2011, she was a pupil of Tuija Hakkila at the Helsinki Sibelius Academy (Finland). Since 2012, she has continued to improve her technique at the 'Incontri col Maestro' International piano master-class in Imola (Italy), under Boris Petrushansky.
Other encounters helped stimulate her energy and musical curiosity: the unique Russian pianist Vladimir Viardo, the renowned French teacher Dominique Merlet, as well as Dmitri Bashkirov, Jacques Rouvier, Aldo Ciccolini, Jay Gottlieb and Gisèle Magnan.
As part of SpiriTango Quartet or together with jazzmen Tigran Hamasyan and Hervé Sellin, Fanny Azzuro breaks down barriers and broadens her experiences as a chamber-music player: dueting with horn-players Pierre Azzuro (her brother), André Cazalet, Hervé Joulain and Matthieu Romand, with violinists Kristi Gjezi, Sora Han and Vanessa Szigeti, as well as with the pianist Audrey Abela.