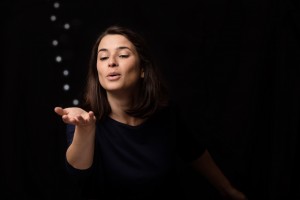 Romanian pianist Mara Dobresco was noticed by the concert-going public and media early on for her playing which is full of character, and for the finesse and elegance of her phrasing. A child prodigy, she first performed with orchestra at age 11. The winner of numerous international competitions, she received scholarships from the Yamaha, Meyer, Tarazzi and Nadia and Lili Boulanger Foundations.
Her many recordings have been lauded by the press, who have compared her to Argerich and Arrau. Consequently, she received the advice and support of Martha Argerich and Dominique Merlet, as well as Jean-Claude Pennetier and Pierre-Laurent Aimard, with whom she has performed four-hand repertoire.
Dobresco has given recitals in France, Romania, Spain, Italy, Germany, Austria, Bulgaria, Russia, Argentina, Australia and Japan, and gave début recitals in Chicago and New York. At the same time, she has made recordings for Radio France, Swiss Radio, and Romanian national radio and television. She was also invited by film director Radu Mihaileanu to record the soundtrack for his film The Concert (2009) featuring Mozart's Piano Concerto No. 21 under the direction of Adrian Prabava.
In France, Dobresco is often invited to play recitals and chamber music with the best musicians of her generation in the most prestigious venues, such as the Cité de la Musique, Théâtre du Châtelet, Musée d'Orsay, Salle Cortot, Théâtre Mogador, the Concertgebouw Amsterdam, Théâtre de la Monnaie, and the Centre for Fine Arts in Brussels, as well as the Grand Théâtre de Provence, the Festival d'Aix en Provence, the Chopin Anniversary at the Tarmac de Châteauroux and the Salle Pleyel, at the Nohant Festival, at the Chopin Festival at l'Orangerie de Bagatelle, at the Musée Jacquemart- André, at the "Classique au Vert » Festival.
A fervent interpreter of contemporary repertoire, she collaborates regularly with numerous composers: Philippe Hersant, Franck Villard, Philippe Leroux, György Kurtág as well as Oscar Strasnov, who has dedicated several of his pieces to her. Mara Dobresco is also interested in the dramaturgy of musical gesture, and has participated in multiple projects based on the intersection between theatre, literature and music. She is a member of Quatuor Face à Face (2 pianists, 2 percussionists), founded 10 years ago, which gives concerts in many of the world's largest concert halls, characterised by great virtuosity, a strong identity and a spectacular stage presence.
A graduate of the George Enesco Music School in Bucharest under the tutelage of Gabriela Stepan, Dobresco received a French government bursary which enabled her to pursue her studies at the Paris Conservatory (CNSM) under Gérard Frémy. She was awarded a First Prize for Piano, a First Prize for Vocal Accompaniment and a Chamber Music Prize. She later returned to the Paris Conservatory for graduate studies with Théodore Paraskivesco. Mara Dobresco also holds a Master's Degree in Contemporary Music from the Geneva Conservatory.