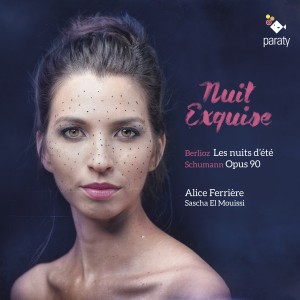 >
The celebration of the night, drawing near, the better to dream of it, playing German and French scores, the search for the unexpected… This is what comprises the journey under the stars to which Alice Ferrière invites us. She offers us several keys to listening to the album.
How did your program come about? And, first of all, why have you brought German lieder and French mélodies together?
At the start, I imagined a first album made up exclusively of German lieder. I discovered this language at the age of eleven, and it came naturally to me immediately. What I mean is, I felt a closeness to it. It talks to me, so to speak, just as well through the musical notes as through the words of its literature, of its poetry. I studied in Vienna, took part in my first singing competition under the guidance of Thomas Quasthoff, from whom I received precious advice. The balance between the two musical cultures, German and French, is achieved in the theme "night", which is a central theme in the history of romanticism.
We have referred to the Germanic universe. Let us first discuss the impressions of this "Nacht"…
In German thought, night is surrounded by mysteries. It's the time when everything is possible, when the soul opens up and dreams come to life. We are at the heart of emotion, in the solitude that leads us to the Requiem, the piece that concludes Schumann's opus 90. This is the first major cycle which the recital is organized around. The force of Schumann's writing is fantastic. It works through ruptures and breaks, which the performer must show. In them, one makes the silences speak. All the expressions reveal themselves: contemplation and solitude, daydreaming, sorrow, passion and rebellion. The night stretches toward other themes such as childhood, the forest, love, death, which are so many essential subjects within Schumann's work. His lieder, his chamber music, and his pieces for piano deal with unexplained premonitions, and the changing moods appeal to the performer constantly, physically, sometimes even painfully.
Do you feel that this opus is a cycle, strictly speaking?
I don't think so, because it doesn't have that obvious narrative logic that one finds, for example, in Frauen-Liebe und Leben (A Woman's love and life). It is a succession of impressions that I have framed with two lieder, by Richard Strauss: Die Nacht, followed by Allerseelen.
We change the atmosphere, not to mention the culture, with the other great score, this one French: Berlioz's Les Nuits d'été (Summer Nights)…
Interpreting Berlioz represents a great challenge confronted with time, that is, with the evolution of the voice. I approached this musical world at a later stage. Berlioz is one of the founders of French mélodie, which is just as close to Nature as the German lied. However, just like with Reynaldo Hahn, this writing seems simpler, which makes it all the more difficult to interpret! In fact, French music is carried by a freshness at all times. It has to burst out obviously, naturally, like a score by Mozart. To keep coming back to the Summer Nights implies not only to always preserve its freshness, but also to delve into the sonorous refinement.
Do you see a specific type of charm in French mélodie?
The Nuit exquise is charming because it suggests a dialogue. It is actually essential for the pianist, who is not an accompanist, but an equal partner.
The assimilation of the French language is totally different to the German language. The voice has to change. It is woven with more velvet and, paradoxically, incisive diction. We play here with extreme precision for the sake of a sensitive fragility. That is what I learned, especially from Sophie Koch. Certain composers have had major significance in this art. I am thinking of Debussy, whose precision and finesse are supported by an equally sensual text. The performer must not ask too many questions, and forget that it took so long to learn…
Let's talk about the two pieces that are rarely heard by two female composers, Nadia Boulanger and Irène Poldowski…
Irène Poldowski is the pseudonym of the composer Régine Wieniawski, daughter of the composer Henryk Wieniawski. She was a flamboyant person, she became Lady Dean Paul, and even opened a haute couture boutique! Her music is deeply influenced by Debussy's, which is why I wanted to have it followed by the French musician's famous Clair de lune.Furthermore, one often mentions Lili Boulanger, the sister of Nadia, who was a famous choir and orchestra director and incomparable teacher. She never stopped paying tribute to the talent of her young sister, who died at age 25. Nadia certainly sacrificed part of her fame for Lili's sake. I was delighted to discover the melody Le Ciel en nuit s'est déplié, with charm in its purest state.
Interview by Stéphane Friédérich