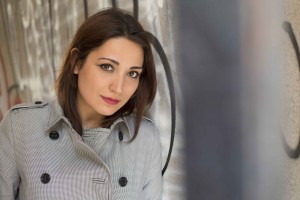 Born in Armenia on Labour Day and living in France since the age of 20, Varduhi Yeritsyan holds an uncommon place in the current pianistic landscape.  Through her twin cultures inherited by great masters such as Brigitte Engerer, Vladimir Krainev, Msitslav Rostropovich, Denis Pascal and Claire Désert, she is both a specialist in the Russian repertoire and a regular interpreter of the French repertoire.  After graduating from Yerevan's Tchaikovsky Specialised Music School for gifted children, she studied at the Paris Conservatory (CNSMDP), where she obtained the highest prizes for piano and chamber music.  She then completed a postgraduate cycle in both areas, studying with, respectively, Brigitte Engerer – her true mentor ever since her arrival in France – and cellist Marc Coppey.
In 2007, Varduhi Yeritsyan won the Paris Conservatoiry's Avant-Scènes annual student contest.  She has also won accolades from the Natixis-Banque populaire, Tarrazi, Nadia et Lili Boulanger, Meyer and Or du Rhin Foundations, and was named "Classical Music Revelation" by ADAMI, a French performers'-rights collective.
Since completing her studies with a performance of Aram Khachaturian's Concerto at the Cité de la musique, she has been invited to multiple festivals (Folle Journée de Nantes, Festival de la Roque d'Anthéron, Piano aux Jacobins de Toulouse, Festival Berlioz de La Côte Saint André, Pianofolies de Touquet, Piano en Valois, Festival de Saint Lizier, Piano(s) à Lille, Les solistes aux Serres d'Auteuil, Festival international de violoncelle de Beauvais, Festival de Sully sur Loire, Festival Messiaen de la Meije) and has played on many French and international stages, including Paris's Louvre Auditorium, the Cité de la musique and the Salle Pleyel, the Arsenal in Metz, Toulouse's Halle aux Grains, Porto's Casa da Musica, the Concertgebouw Amsterdam, the Hague Theatre, the Czech Philharmonic in Prague, the Sibelius Academy in Helsinki, the Estonia theatre in Tallin…
Renowned for her interpretation of Alexander Scriabin, whose cycle of ten sonatas for piano she regularly plays as a cycle, she is also a passionate chamber musician, sharing the stage with Brigitte Engerer, the Danel, Psophos, Zemlinsky and Ardeo string quartets, violinists Renaud Capuçon, Fanny Clamagirand, Hae Sun Kang, Geneviève Laurenceau and Jean-Marc Phillips-Varjabédian, cellist Marc Coppey, bassoonist Pascal Gallois, pianist François-Frédéric Guy, jazz pianist Tigran Hamasyan and dudukplayer Araik Bartikian.  She also particularly enjoys performing as soloist, and in recent years has played with conductors including Alain Altinoglu, Alexander Anissimov, Fabien Gabel, Claire Gibault, Christoph Koenig, Bruno Mantovani, Tugan Sokhiev and Zahia Ziouani, leading orchestras such as the Bretagne, Île-de-France and BBC London orchestras, that of Porto's Casa da Musica, the Shanghai Philharmonic, the Strasbourg Philharmonic and the Toulouse Capitole Orchestra…
In 2010, she received funding from the prestigious Jean-Luc Lagardère foundation for her recording of Sergei Prokofiev's music, released by Maestria Records in 2012.  Varduhi Yeritsyan has been a guest on many shows on Radio France's "France Musique" channel, including Gaëlle le Gallic's "Dans la cour des grands", Arièle Butaux's "Un mardi ideal" and Jean-Pierre Derrien's "Le matin des musiciens". She is an assistance professor of Denis Pascal's piano class at the Paris Conservatory.