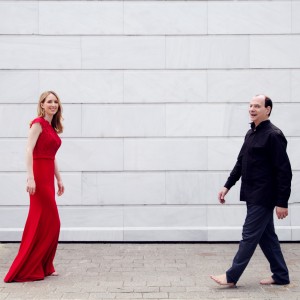 Anne de Fornel
Franco‐American pianist and musicologist, Anne de Fornel obtained a Master's degree in piano from the National Superior Conservatory of Music and Dance of Lyon in 2012 where she studied with Florent Boffard and earned a Doctorate in Musicology from the University of Paris‐Sorbonne (Paris IV). The following year, she was awarded a Specialized Master's Degree in "Media, Art and Creation" from HEC Paris. In 2019 Éditions Fayard published her critically acclaimed book on John Cage.
Anne de Fornel has recorded several albums for the Hortus label: Un Long Voyage (2012) with the Trio Steuermann; the CD/DVD Tramages (2014) with the Ensemble Mesostics in which she is the soloist of two contemporary works – Trame IV by Martin Matalon and Interstices by Philippe Hurel (awarded five diapasons by Diapason magazine); La Nuit Transfigurée (2015) with the Trio Steuermann and as a soloist Vers la Vie Nouvelle (2016) (selection of France Musique). In 2017, with the Trio Empreinte, she recorded the album Crossing the Line featuring works by Mel Bonis, Lili Boulanger, Ida Gotkovsky and Graciane Finzi. Released by Klarthe label, this album earned the Trio Empreinte an article in Libération, the "Choix de France Musique" distinction and an invitation to appear on different France Musique broadcasts. She appeared as a pianist in the documentary Pierre Wissmer, a Portrait (2015) which she co‐authored with the director Éric Darmon.
Passionate about contemporary music, she premiered as a soloist Moth by Andrea Agostini; 24 Haïku by Jean‐Yves Bosseur; Ucelli di Pace by Fabrice Gregorutti; with the Trio Steuermann, Klaviertrio by Johannes Boris Borowski; with Guy Livingston, Chabrieriana for piano four hands by William Bolcom; as well as Crossing the Line by Graciane Finzi and Slow Swirl at the Edge of the Sea by Robert Lemay with the Trio Empreinte. She performed her most recent concerts in Paris at the Palais Brongniart, George C. Marshall Center, Salon France‐Amériques, Petit Palais; at the Auditori de Barcelone; in Baden‐Baden in the Kulturhaus; and in prestigious festivals (Artenetra, Musicancy, Piano Lille, Lake District Summer Music, Uppermill Summer Festival).
Jay Gottlieb
The New York Times praises "his brilliant talent combined with an adventurous spirit", and the "magnificently colorful and extraordinary technique" of his playing. Pierre Boulez says of him: "Very interesting, he shows distinct originality and the best qualities in regard to his performance". Jay Gottlieb was born in New York where he was an honors graduate of the High School of Performing Arts while simultaneously studying at the Juilliard School. He received a Master of Arts degree from Harvard University. For many years he worked closely with Nadia Boulanger, as well as with pianists
Robert Casadesus, Yvonne Loriod and Aloys Kontarsky, and composers Lukas Foss, Stefan Wolpe, Olivier Messiaen, Maurice Ohana, Georges Aperghis, Luciano Berio, Pierre Boulez, Sylvano Bussotti, John Cage, George Crumb, György Ligeti, Betsy Jolas, Oliver Knussen, Giacinto Scelsi, Ralph Shapey.
A laureat of the Tanglewood Festival Prize, he has participated in many prestigious music festivals (including La Roque d'Anthéron, International Clavier Festival in New York, Autumn Festival in Paris, Autumn Festival in Warsaw, Almeida in London, Venice Biennale, Moscow Forum), in recital, as well as in concert‐conferences and master classes throughout the world. Institutions such as the Juilliard School, the University of Indiana in Bloomington, CNSM in Paris, CNSM in Lyon, École Normale, Schola Cantorum, American Conservatory in Fontainebleau, Centre Acanthes, Pianale in Germany regularly call on him as a teacher. In November‐December 2015, he sat on the jury of the Hamamatsu
International Piano Competition in Japan with Martha Argerich.
He has performed as a soloist with orchestras and ensembles such as the Boston Symphony Orchestra, Les Percussions de Strasbourg, London Sinfonietta, New York Group for Contemporary Music, members of the New York Philharmonic and the Orchestre de Paris working with conductors such as Pierre Boulez, Seiji Ozawa, Kent Nagano, Michael Tilson Thomas, Lukas Foss, Aaron Copland, and Arturo Tamayo. Many composers (Magnus Lindberg, Franco Donatoni, Sylvano Bussotti, Luis de Pablo, Maurice Ohana, Betsy Jolas, Gilbert Amy, Yan Maresz, Lukas Ligeti, Bruno Mantovani, Oscar Strasnoy, Régis Campo, Poul Ruders…) have written for him. He has recorded the soundtrack of several films
(including La Discrète), and has written a book on modern and contemporary piano music published by the Cité de la Musique‐Villette. His recordings for Philips, RCA, Harmonia Mundi, Erato, Aeon have several times been awarded the Grand Prix du Disque or Coup de Coeur of the Charles Cros Academy, the Diapason d'Or, and the "Choc" of the Monde de la Musique, among others.
Jay Gottlieb has been selected to represent the USA worldwide through the Arts America Program of the USIA, a division of the State Department.