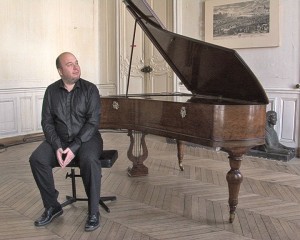 Pianist and fortepianist Knut Jacques studied at the Paris Conservatory (CNSMD), where he was awarded three degrees (diplômes de formation supérieure).
Mr Jacques continued his studies with Denis Pascal and Ruben Lifschitz (modern piano) and Bart van Oort (fortepiano) at the Royal Conservatory of the Hague.
Over the course of his musical life he also worked with renowned musicians Paul Badura-Skoda, Malcolm Bilson, Eric Hoeprich, Alessandro Moccia, and Kenneth Weiss.
Mr Jacques is an active performer both as a soloist and chamber musician. His career has taken him to Japan, Austria, Spain, India, Italy, the Netherlands, and throughout France.
A regular guest at festivals, he has performed at the Kyoto International Festival, the Académies Musicales de Saintes, and the Festival 'Les Chants de la Dore', among others.
Mr Jacques tours as a piano soloist, as fortepiano soloist with orchestra, and performs chamber music with the Orchestre des Champs-Elysées. He regularly gives lecture-recitals at the Musée de la Musique in Paris.
In addition to his active performance schedule, Knut Jacques is a dedicated teacher. Having earned the CA, the French nationally accredited teaching certificate, Mr Jacques teaches at several regional conservatories in Paris. He is also Associated Professor at the Pôle Supérieur d'Etudes Musicales in Burgundy.