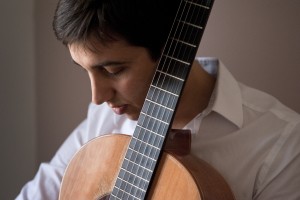 Sébastien Llinares was born in 1978 in Toulouse. He received a classical education and studied musicology and jazz, then joined Cristian Marcia's class at the Conservatoire Frédéric Chopin in Paris. In 2007 and 2008, he attracted attention during the International Academy of Music of Cagliary (Sardinia) where he won a scholarship given by the Zaleski Foundation. This award permitted him to improve himself with Rafael Andia and to get the Diplôme Supérieur d'Exécution and the Diplôme Supérieur de Concertiste at the École Normale Supérieure de Musique de Paris.
Rafael Andia says about him : « Sébastien has a unique and topflight talent. An unfailing technique, combined with a rare sound, gives his music an uncommon strength. He plays the guitar with such ease that you never have the impression that he makes an effort ­­­– impression generally given even by the greatest guitar players. »
Sébastien Llinares is both interested in early and contemporary music and plays all types of guitars : baroque, romantic, classical and electric. Attached to the great tradition of the Spanish guitar, he plays the repertoire, looking for a new romanticism in which formal clarity, historical consciousness and spontaneity try to get a dialogue going between different styles and periods. Sébastien is also interested in composition. He composes or transcribes unpublished pieces for guitar, trying to connect the vocabulary of the contemporary guitar to the expressive power of the guitar tradition.
He plays as a soloist, in chamber groups and in ensembles. He is regularly invited to appear on stage and in festivals, in France and in Europe.