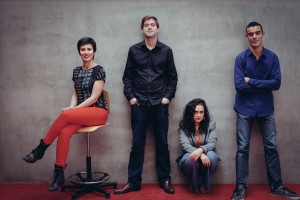 Closeness, friendship, enthusiasm and creativity: these four words sum up the SpiriTango Quartet.
In their first five years, their rich and varied repertoire has covered a mixture of traditional tango, nuevo tango, contemporary music and original compositions.
After studying at the Conservatoire National Supérieur de Musique de Paris, under Ami Flammer and Jean-Noël Crocq, they released their first album, Rage, in 2003, which was dedicated to the music of Astor Piazzolla then in March 2015 their second album Chin Chin, opening their world to other composers. They studied further under Richard Galliano, Hervé Sellin, Juan José Mosalini as well as the Quatuor Ebène.
They performed on the national and international stages: Les Invalides & La Sorbonne in Paris, the opera house (amphitheatre) in Lyon, the Royal Conservatory of Brussels… They were invited to perform at many festivals, including Festival Radio France Montpellier, Pianos Folies Touquet, Piano Campus, les Pianissimes, Le Printemps des Alizés (Morocco), Jeunes Talents, Concerts de Poche… Their music is regularly broadcast on France Musique , France Inter, RFI , FIP , Radio Classique.
Their artistic project hinges around very personal interpretations at the crossroads of tango and classical music, each world enriching the other. On the other hand, in selecting the repertoire for this ensemble, they endeavour to create and promote new works from contemporary composers, particularly showcasing the new generation. They have worked with Graciane Finzi, Mathieu Stefanelli, Alexandre Fontaines —among others— and plan to collaborate with Etienne Kippelen, Olivier Calmel and Andrea Marsili.